Zoals jullie waarschijnlijk wel weten heb ik graag een gezond kleurtje. Niet voor niets ga ik eens in de twee à drie weken naar de zonnebank! Met een kortingsabonnement is dat natuurlijk extra verleidelijk, haha… Op de Proefparade kreeg ik de Marc Inbane natural tanning spray mee om te testen, inclusief een scrub, een kwast en een handschoen om je tan mooi egaal mee te maken. Eerlijk gezegd heb ik nog nooit eerder een tanning spray gebruikt, dus ik was heel erg benieuwd! Kijk je mee naar het resultaat?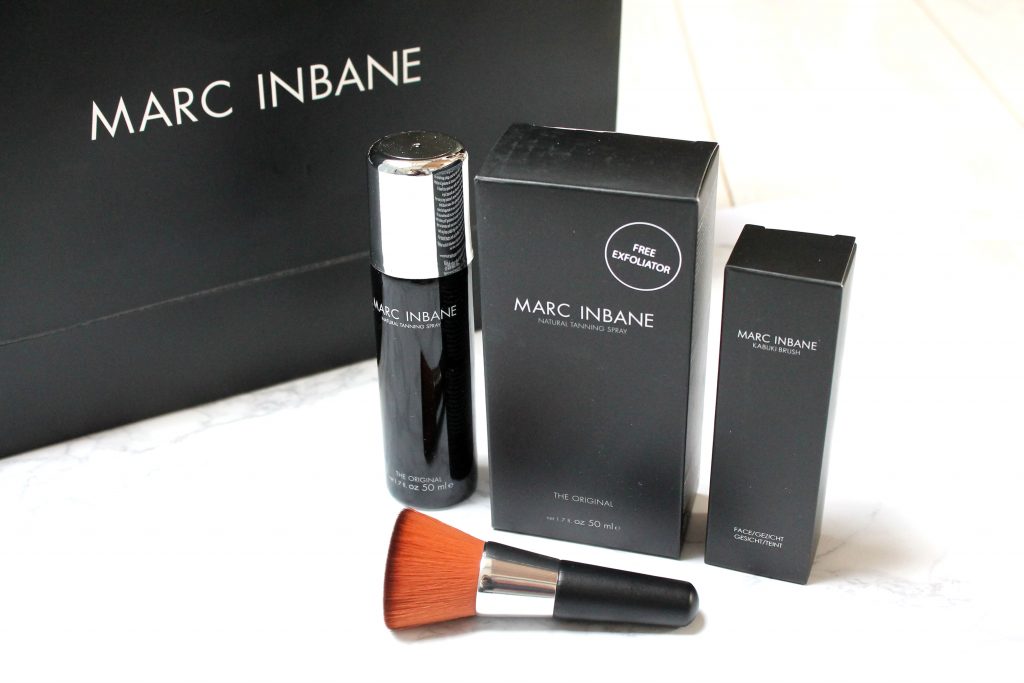 Oh jongens, wat waren de zwarte verpakkingen lastig om mooi op de foto te krijgen! Jullie willen niet weten hoe lang ik hiermee bezig was, haha. In ieder geval vind ik de verpakkingen wel erg mooi en goed verzorgd. Zwart straalt toch luxe uit, hè?! De verpakkingen die je ziet op de foto zijn trouwens van de tanning spray en de kwast, dit alles kwam met een scrub, een handschoen en een instructieboekje in een mooi Marc Inbane tasje.

Dit zijn de ingrediënten van de tanning spray.

Bij de Proefparade mochten we een kleine flacon tanning spray mee om te testen, het zogenoemde 'reissetje.' Met de grote flacon – ja, die bestaat ook! – (200 ml) kun je zo'n 60 keer doen. Met deze kleine flacon (50 ml) dus ongeveer 15 keer.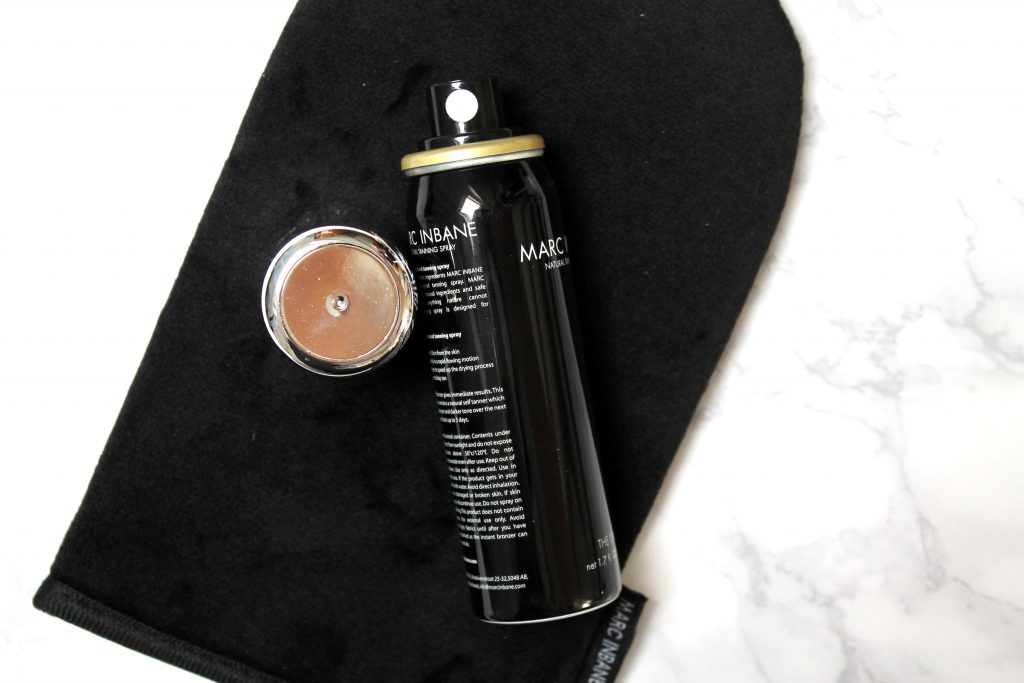 De kwast en de handschoen zijn bedoeld om het product egaal aan te brengen, als je bijvoorbeeld teveel op één plek hebt gesprayed. Super handig, want ik heb totaal geen ervaring met tanning sprays! Voordat ik aan de slag ging heb ik zorgvuldig de instructies doorgenomen. Ook heb ik mijn gezicht gescrubd met de bijbehorende scrub.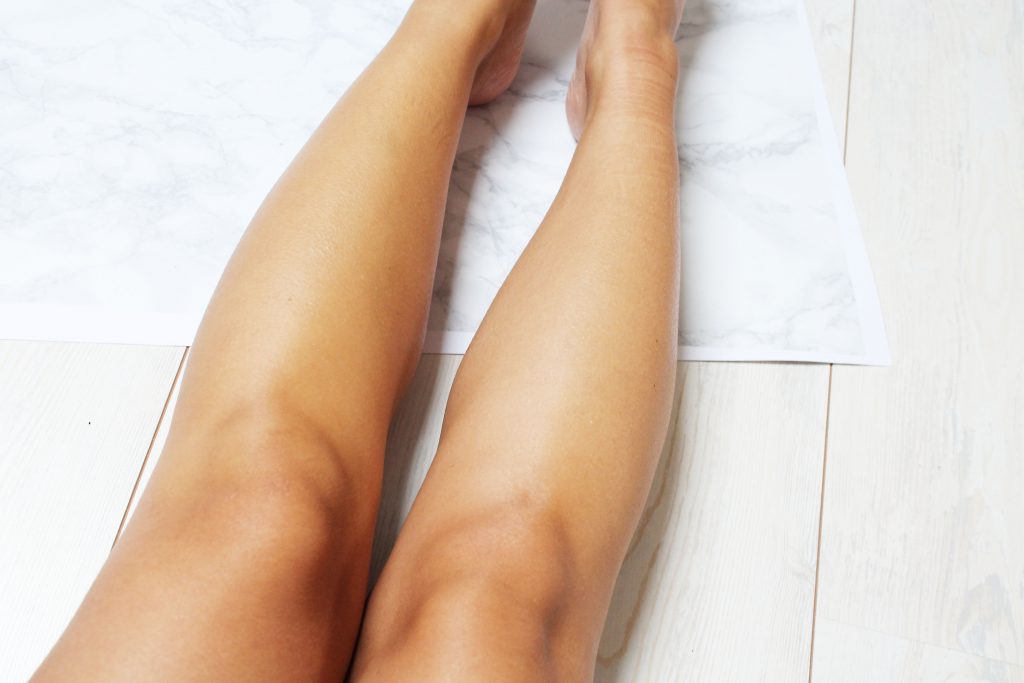 Tijd voor de test! Mijn benen hebben – gelukkig – nog wel een lekker kleurtje dankzij mijn vakantie op Gran Canaria, maar daarom was ik extra benieuwd of de tanning spray wat zou doen.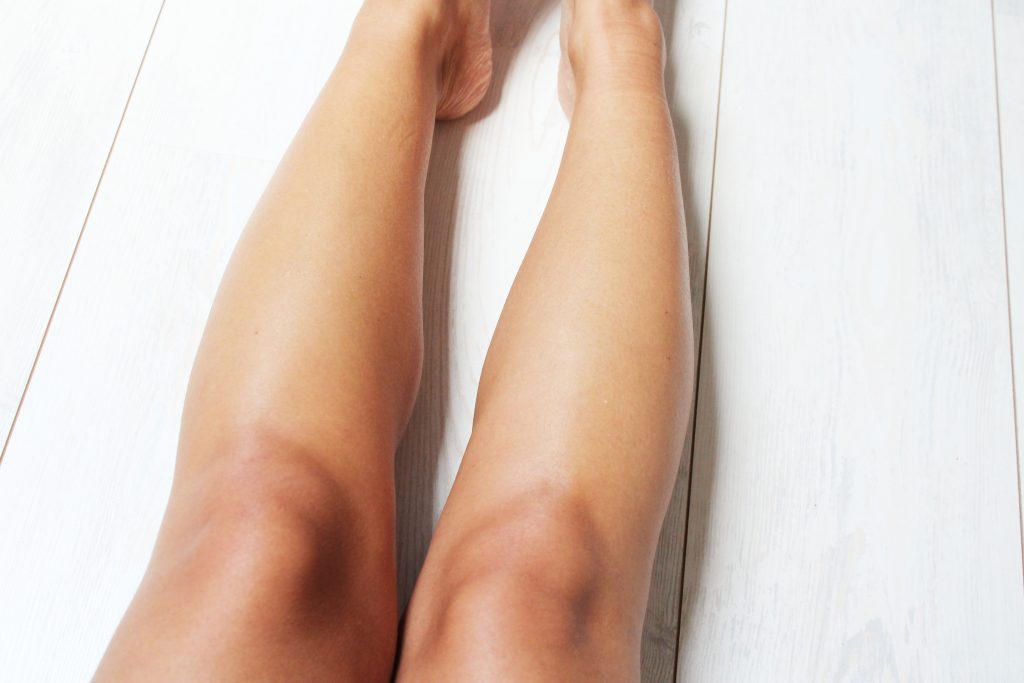 Hmm, het resultaat van de spray op mijn benen vond ik moeilijk vast te leggen! Je ziet wel dat mijn benen iets dieper bruin zijn, vooral bij mijn knieën. Het is de bedoeling dat je korte en snelle bewegingen maakt tijdens het sprayen, maar toch had ik soms last van bruine spetters en vlekjes. Gelukkig zijn deze goed uit te vegen met de handschoen – echt, liefde voor de handschoen! Ik heb daarna (sorry voor deze vage uitleg, maar ik weet echt niet hoe ik het moet noemen) het gaatje waaruit de spray komt goed schoongemaakt, ik dacht, misschien zit 'ie wel verstopt en krijg ik daardoor af en toe spetters. Maar het bleef helaas zo.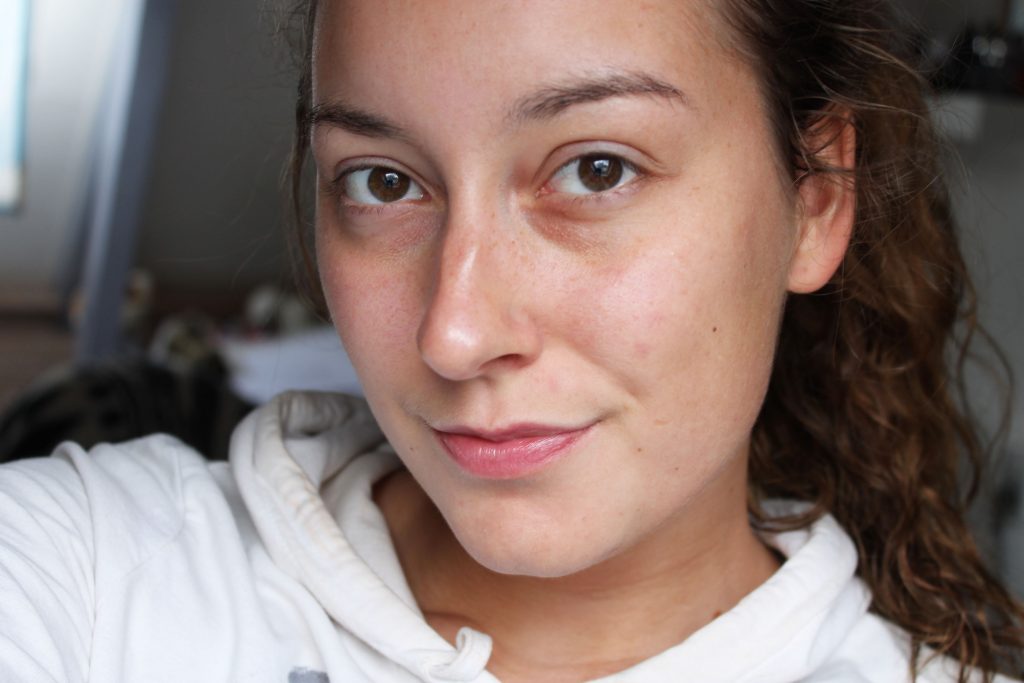 Ik besloot de spray op mijn gezicht uit te testen. Mijn gezicht wordt altijd super snel weer wit na een vakantie of een bezoekje aan de zonnebank – herkennen jullie dit? Wel een ideaal moment om de tanning spray te proberen! Ik vond het wel heel erg spannend. Voor het sprayen heb ik een handdoek op de grond gelegd en een handdoek om mijn middel geslagen, zodat mijn kleding niet vies zou worden. Tijdens het sprayen van mijn gezicht heb ik ook meteen mijn armen, buik en rug (voor zover dat kon) meegenomen.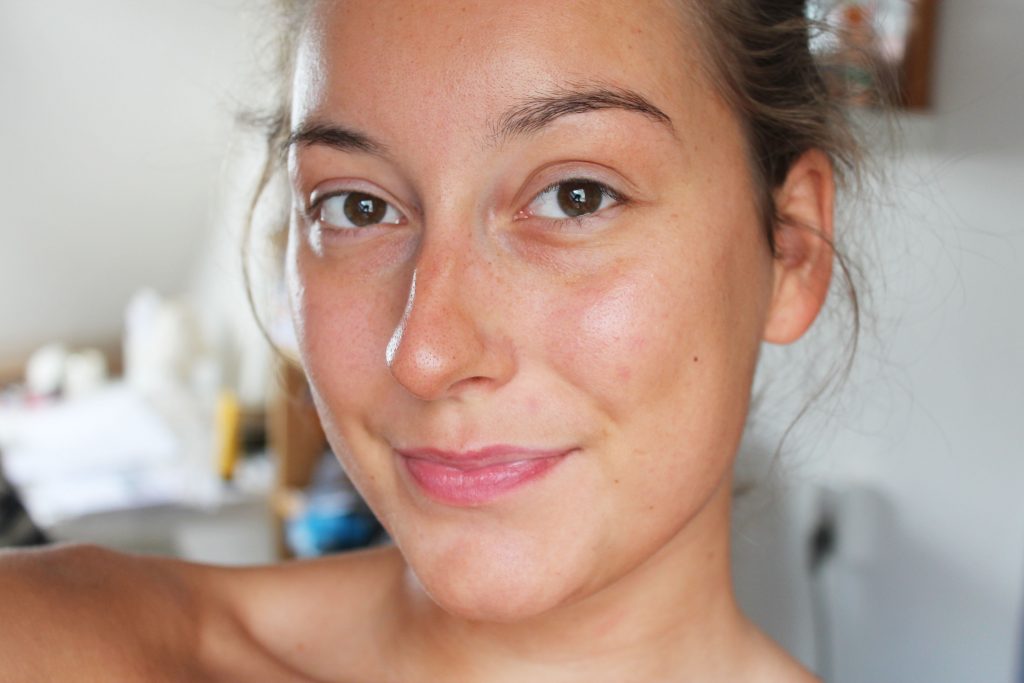 En dit is het resultaat van de spray op mijn gezicht! Zoals je ziet pakt vooral mijn neus de spray heel goed op haha, die is lekker verkleurd ;-). Na ongeveer 10 minuten is het ingetrokken, toen deed ik voorzichtig mijn joggingbroek en een los vest aan. Ik heb het nog een paar uur laten intrekken – het bruint namelijk nog na – en toen heb ik het overtollige bruin weggepoetst met een make-up doekje. Vooral mijn neus en mijn voorhoofd waren heel erg bruin geworden, ietsje te! Er kwam bijna niks meer af, het bewijs dat de spray echt goed was ingetrokken!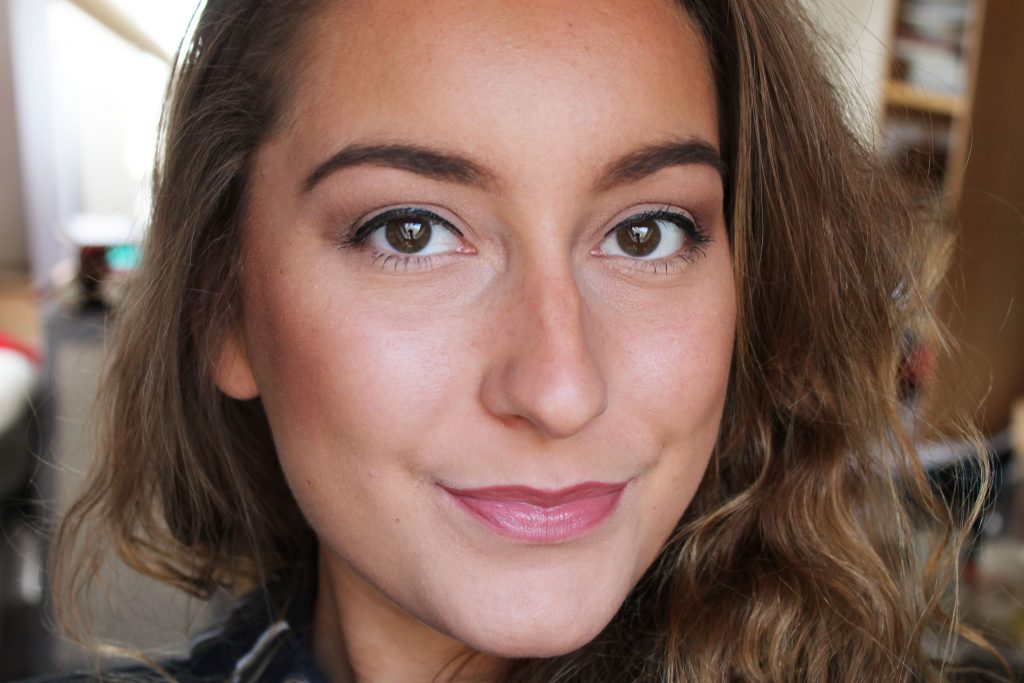 Ik heb er even een nachtje over geslapen – gelukkig geen vlekken in mijn bed, yay! – en zo zag het geheel er de volgende dag uit met mijn make-up. Toen het ergste bruin er af was, was ik ook wel erg blij met het resultaat. Toch weer een lekker gezond kleurtje! Deze look maakte ik trouwens met bijna allemaal Rimmel London producten.

Qua prijs ben je met de tanning spray veel goedkoper uit dan bij de zonnebank. Ook is het beter voor je huid. In een goede 20 minuten heb je ook wel je hele lichaam gedaan, dus qua tijd is het ook prima te doen. Maar ik heb toch ook een aantal nadelen ondervonden. Je kunt je rug niet doen – ja, als ik dit gebruik wil ik ook alles bruin hebben, haha -, je hebt een paar handdoeken nodig anders wordt je grond ook bruin en af en toe kwamen er spetters/vlekjes uit de flacon. Daarbij zijn de handschoen en de kwast wel heel erg handig, want hiermee kun je het egaliseren. Ook voor het gezicht vond ik deze tools heel erg fijn! En wat ook fijn is, de spray gaf de eerste dag niet af in mijn bed – wel had ik gedoucht voor het slapengaan. Je tan blijft ongeveer 5 dagen zitten, dat is best lang. Ik denk dat het ook gewoon even wennen en uitproberen is, ik ga deze spray zeker vaker gebruiken!
Heb jij ervaring met tanning spray? Lijkt de natural tanning spray van Marc Inbane je wat?